Cyclist celebrates world-beating infection control system - with 'copter crew who rescued him
Cyclist celebrates world-beating infection control system - with 'copter crew who rescued him
Wednesday, 30 March, 2011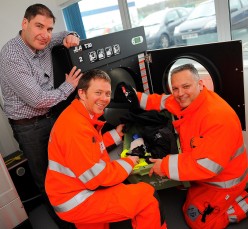 A cyclist has helped celebrate a state-of-the-art infection control laundry at an Air Ambulance Support Unit - with the crew who rescued him after a crash.

Phil Coleman, an employee at laundry distributors JLA, officially unveiled the company's OTEX disinfection system at Yorkshire Air Ambulance's base in Leeds, famous for rescuing TV presenter Richard Hammond.

The system uses ozone to eliminate all bacteria, including deadly C. difficile, which conventional laundries are unable to do.

It is one of only 10 products to have received the Department of Health's top accolade, Level 1 Rapid Review Panel status, and is a front-line infection control tool in more than 70 hospitals and 1000 carehomes nationwide.

This will help prevent cross contamination after incidents, and is more cost-effective as it uses mainly cold water. The Yorkshire Air Ambulance is an independent charity so every penny counts.

Phil (left) was reunited with paramedics Glen Powell (centre) and Darren Axe of the Yorkshire Air Ambulance, who flew to his rescue when he crashed off his mountain bike near Rotherham and suffered injuries including a broken back in two places, a punctured lung and four broken ribs.

The crew said: "We are delighted to see Phil again, this time in a celebratory way, and having OTEX at our base - preventing cross contamination is paramount.

"This revolutionary new system uses the same processes found in thunderstorms - definitely worth avoiding with our helicopters, but not with our uniforms!"

Phil said: "It's great to meet the team again - they are real lifesavers and I know OTEX will extend the hospital environment into the heart of their operations."

Thankfully Phil is now well on the road to recovery, and plans to take part in a fund-raising activity in Autumn.