Recognition for dedicated London Ambulance Service staff
Recognition for dedicated London Ambulance Service staff
Monday, 21 March, 2011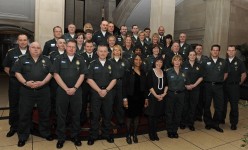 Long Service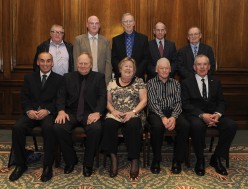 Retirees
LONG-SERVING members of staff and retirees who clocked up nearly a thousand years' service in the country's busiest ambulance service have been recognised at a ceremony.

Twenty-six frontline staff who completed 20 years service received the Queen's Ambulance Service Long Service and Good Conduct Medal and nine of their colleagues received the London Ambulance Service Medallion. The medals were presented by Chief Executive Peter Bradley.

Twelve retirees from across the organisation, with a combined 405 years with the Service, were presented with glass blocks, commemorative ambulance bells and a certificate by Chairman Richard Hunt.

Peter said: "I pay tribute to everyone who received an award, whether it be for long service or retirement - it's a great achievement."Their commitment and dedication to helping the people of London deserves this recognition."