Cathedral staff are life savers
Cathedral staff are life savers
Thursday, 17 March, 2011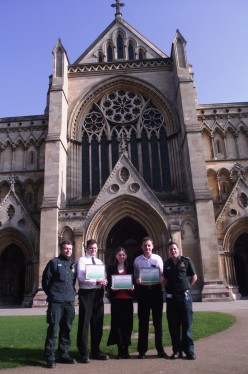 The life saving team outside St Albans Cathedral with their certificates of commendation, left to right - Dan, Michael, Gemma, Andy and Simon
When three community responders commenced their basic training they did not know they would be using a defibrillator for real two days later.

Gemma Saunders, Michael Hawkes and Andy Clarke who all work at St Albans Cathedral, undertook their community responder training with the East of England Ambulance Service back in November 2010. Whilst they were working, a call for help was heard from a woman who found a man collapsed outside the main entrance to the cathedral.

The man in his 60s was spending the day with his family and enjoying a walk around the grounds of the cathedral when he felt unwell. He managed to get near to the main door, then he collapsed. With their responder bags and AED in hand, Gemma, Michael and Andy found the man unconscious. After rapidly taking control of the scene, the man had no pulse and wasn't breathing.

Gemma applied the AED and a shock was advised. After one shock and continuing CPR by Andy and Michael, paramedic Dan Thornton arrived at the scene. Dan said: "The man was being cared for by the three cathedral staff and they were doing a magnificent job. They continued to assist me and another shock was delivered by Gemma before the ambulance arrived."

Jo Cartwright, emergency medical technician based at St Albans, who attended the scene said: "There is no doubt that their quick interventions, defibrillation and good effective CPR has saved this mans life. They all thoroughly deserve their commendations, well done."

After a short spell in Watford General Hospital, the man returned to his family home in Barnet where he is doing really well.

Community partnership training officer Simon Marshall, who presented their certificates on behalf of the trust said: "I am very proud of Andy, Gemma and Michael for working so well in extremely difficult circumstances. Congratulations to them all on such an admirable achievement." The patient has since returned to the cathedral to personally thank the team for saving his life.