SoS gets up close and personal with HART
SoS gets up close and personal with HART
Wednesday, 26 January, 2011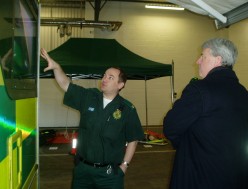 Steven shows Andrew one of the HART vehicles
Secretary of State for Health Andrew Lansley has been able to see first-hand the work of the East of England Ambulance Service hazardous area response team HART).

In December, the Member of Parliament for south Cambridgeshire visited the HART base in Melbourn and was joined by Chief Executive Haydon Newton, and associate director for special operations, Oskan Edwardson.

After a short talk on HART and the unit within the east of England, he was given a personal tour by HART manager Steven Moore. The team staged three small exercises inside the base to highlight some of the key working practices of HART and the challenging environments where patients can now be accessed and treated.

HART operative David Robinson said: "One colleague entered the confined space rig and made their way through the crawl space to a patient who was trapped following the collapse of a building. The subsequent assessment and treatment, including EZ-IO, was watched on the communications vehicle via the cameras being worn by the HART operative in the tunnel.

"Two further operatives in safe working at height (SWAH) kit accessed a patient on a mezzanine floor via a Jacobs ladder to simulate working on a motorway gantry. "Both scenarios demonstrated clearly situations where historically ambulance staff may have been pressured into working but would either have not been able to or would have done without the right training or PPE."

The third scenario saw two operatives wearing breathing apparatus and gas tight suits enter a room, which had be used as an illegal drugs laboratory, to triage and extricate patients. Again, one used a bodyworn camera to relay pictures back in real time. Andrew then had the opportunity to get up close and watch as the operatives quickly and skilfully packaged a patient in a MIBS stretcher.

David added: "The tour finished with a look over the HART vehicles and other PPE such as the inland water operator dry suit. Staff had the opportunity to discuss their role and the various PPE with Andrew." Andrew said: "I am tremendously impressed by the enthusiasm and expertise shown. HART has clearly been established as an integral part of the ambulance service.

"It really inspires confidence that when the public really need help and medical care, the ambulance service, with HART, will be there to get to them and to care for them."

Hayden said the event had been purposefully kept as a constituency visit to allow Andrew to get a real feel for the way staff in his constituency work and the atmosphere at the HART base. He hailed the visit a complete success and praised the staff for their continued commitment and professionalism.

Steven added: "The three scenarios demonstrated how HART is able to add value to the patient care in areas where the ambulance service was previously unable to operate."