East of England say goodbye to Glenn!
East of England say goodbye to Glenn!
Wednesday, 26 January, 2011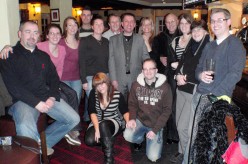 A fond farewell has been paid to a long-serving Essex ECP as he moves on to a new life in the south of England.

Glenn Butcher was joined by colleagues at a leaving do in December, and his last shift was in the final week of the month. He starts the new year in the same role

at South East Coast Ambulance Service where he'll set up home with wife Joanne and their new baby, due this month.

Having been a builder and mechanic, Glenn looked for a job with the Essex Ambulance Service and began his career within the patient transport service in November 1989. Studying at night school for four years, the A&E operations beckoned and in the past 20 years Glenn has been a technician, paramedic and then emergency care practitioner in 2006.

As well as working around south Essex in Southend, Rayleigh and Thurrock, Glenn also worked on the Essex Air Ambulance between 2003 and 2006 with crewmate Robbie Robinson.

He said: "There's been quite a few memorable incidents over the years, and working on the helicopter really did test my skills in particular. I'd like to thank all of those who I've worked with, and those I haven't caught up with; I will miss everyone." Glenn received a brass plaque, clock and bird table amongst other leaving presents.

Assistant general manager Lisa Fautley, who has known Glenn since she joined the Trust, said: "Through his own determination, he worked extremely hard to successfully transfer onto the emergency side of the ambulance service, which was no easy feat in those days!

"He has provided fantastic patient care to thousands of patients in his career and successfully achieved the ECP status, whereby he could contribute further to
caring for his patients. "I personally would like to thank Glenn for his dedication to the Trust and more importantly for genuinely caring about people and treating them so professionally."

Colleagues from Rayleigh said: "He truly is a fantastic ECP and a really genuinely nice person. He will be missed and we want to pass on a big good luck to him and his new family."