Big thanks to staff, volunteers and public
Big thanks to staff, volunteers and public
Monday, 06 December, 2010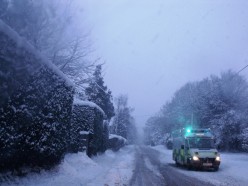 South East Coast Ambulance Service NHS Trust (SECAmb) would like to say a big thank you to its staff and volunteers as well as members of the public for their efforts during the recent severe weather.

The commitment of staff and volunteers and support received from the public was second-to-none.

Numerous examples of staff going beyond the call-of-duty and the public helping in any way possible were reported to the Trust.
Chief Executive Paul Sutton, who was out and about responding to 999 calls himself during the bad weather, said: "The last week has been challenging for the Trust but, as always, the dedication and commitment of our staff and volunteers has shone through. I'd like to say a very big thank you to any members of the public who have helped us in any way at all. The support from the public has been extremely humbling."

Just a few examples of the amazing effort are summarised below:

•Christa Kirkpatrick from SECAmb's Patient Transport Service (PTS) in Medway paid tribute to her colleagues at Medway, Sittingbourne, Sheppey and Thameside stations who worked hard getting patients to important outpatient appointments in challenging conditions. PTS staff volunteered to go out on the road with their A&E colleagues to assist in whatever way they could to help patients. Everyone was kept busy, whether it was clearing the snow at stations, conveying cancer patients and others to appointments and helping to respond to patients with A&E ambulance clinicians.

•Clinical Team Leader at Folkestone Ambulance Station, David Bennett was clearing the ramps at the station with colleagues when a member of the public, Sean Pluckrose, turned up with a shovel to help. Realising the extend of the task, Sean came up with a cunning solution to the problem. He returned home briefly before re-appearing with a gas cylinder and blow torch! A roofer by trade, thanks to his help the station had a snow-free ramp much sooner than expected.

•Clinical Operations Manager at Cranbrook Ambulance Station highlighted the efforts of Student Paramedic Daniel Dodd who started work at Cranbrook a couple of months ago.

Daniel, who lives in Tooting, South London, made an extra effort to get into work during the extreme weather. Daniel was on a 9am-9pm shift and arrived in Cranbook by 10am. Lynda commended his efforts and said: "Daniel made a real effort. It was extremely impressive as he would have had to get up very early to achieve this!"
Daniel's Clinical Team Leader, Wendy Pearson then kindly put Daniel up for two nights so he was able to cover his shifts over the next few days.

•Denise Collett, Clinical Team Leader at Dartford Ambulance Station thanked all staff from their efforts and in particular:

Paramedic Gavin Thompson who worked three night shifts and also took staff home from night shifts and picked up day staff. Gavin managed to grab a few hours sleep on station before collecting night staff and taking home day staff once again.

Fellow Dartford paramedic John Lynn performed a similar role on the first night of the snowfall. When he couldn't get home himself he kindly became a taxi service for his colleagues.

Clinical Team Leader Kim Broad worked on station when off duty for two days and delighted colleagues by cooking a delicious stew for all night and day staff.

Clinical Operations Manager Louise Massen extended her shifts to run staff to and from work in a 4x4 vehicle and even went back to work to ferry the 2am finishing staff at other stations in the area.

Abi Brimfield - spent a night on station assisting with lifts while numerous staff at Dartford and Thameside stations turned up on days off to help with transport.

Special thanks also goes to BT who occupy one of the units on the industrial estate the ambulance station is based on. They used a small digger to clear roadways and provided additional salt. The Highways Agency was also quick to fill the salt bins after extending the road clearance.

•Alex Dondi works in Patient Transport Service, (PTS) for SECAmb in Thanet and is the team leader for the Deal and Sandwich Community Responders. In the first few days of the snow he drove more than 450 miles picking up staff for work and also getting them home. He also carried out a number of trips to deliver food to ambulance stations across the region and responded to 999 calls.
Alex was out and about in a 4x4 which was purchased through fundraising by the community responder scheme.

•Paramedic Kim Harding from East Grinstead praised the actions of a local farmer, Simon Chiles who kindly came to the rescue of her and her colleague, Emergency Care Support Worker, Sian Davis when they were unable to negotiate the steep Cockham Hill in Westerham, Kent. A number of locals helped dig snow from under the ambulance while Simon towed their vehicle up the hill to safety and passed on his details in case the Trust required his help again. (photo attached)

•SECAmb Technician Matthew Jones from Eastbourne Ambulance Station runs a medical team for the Scouts outside of work and as part of the team's fleet they run a Land Rover ambulance. The volunteers were on the phone to Matthew as soon as the bad weather hit. Team members John Clark and Steve Riorden were a huge help to SECAmb by driving Matthew and other SECAmb clinicians to patients in hard to reach areas.

•Clinical Operation Manager for Brighton Adrian Dry acknowledged the efforts made by SECAmb technician Craig Brown during the severe weather. As conditions worsened and some vehicles experienced difficulties, Craig volunteered to work as a responder and rescuer on his own 4x4 vehicle. Craig also used his vehicle to collect and return staff home if they were unable to get in by themselves.

•Glen Borthwick praised the work of Newhaven Community Responder, Alan Deakin, who on the nights of 1 and 2 December went beyond the call of duty to transport staff to and from work. Just after midnight on 3 December Alan went a step further by attending a crew who had become stuck in the Fairholme Road area of Newhaven - a particularly high area of the town which had become very icy.
Alan was also thanked for his commitment by Duty Dispatch Manager and fellow community responder, Sarah Atkey, for his time spent ferrying staff to work and then responding to calls from SECAmb Lewes control room.

•Patient Transport Service, (PTS) member of staff from Crawley Aliso Holland was singled out for praise by PTS manager Paul Manning after she walked more than two miles through the snow to start her shift.

•PTS Operational Manager Ray Savage recognised the efforts of Bill Pike, PTS Team Leader and community responder in Eastbourne, after Bill and colleagues linked in with the Beachy Head Chaplains who have a 4x4 vehicle. The group showed great team work in extremely challenging conditions in the first few days of the snow working well into the early hours on 1 December.

•Sarah McCreath, Resource Dispatcher at SECAmb's Banstead control room highlighted the kindness of Community First Responder Tim Gerhard and his mother Shelia who put herself and colleague, Charolotte Penny up at Shelia's house in nearby Tadworth.

Tim also collected the pair for their shifts the following morning using his own 4x4 vehicle. They were extremely grateful for their generosity and warmth.