Sharp Thinking Leads to Recognition for Ambulance Service Employees
Sharp Thinking Leads to Recognition for Ambulance Service Employees
Thursday, 04 November, 2010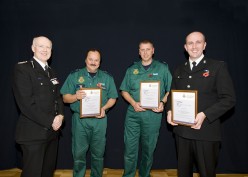 Chief Constable Steve Finnigan with Paramedic Steve Dugdale, Sector Manager Dave Rigby and temporary Sgt Andrew Green
Two employees from North West Ambulance Service NHS Trust have been recognised by Lancashire Constabulary for their work to help drive down knife related crime.

Section Officer Dave Rigby and Paramedic Steve Dugdale from Blackpool were both handed certificates from Chief Constable Steve Finnigan for their work with Lancashire Police Officers on a project designed to warn Blackpool teenagers of the dangers and consequences of using and carrying knives.

The project involved visiting schools to deliver a presentation to students aged 11-18 years called "Be Sharp, Think Sharp", which they designed to educate youngsters about the terrible consequences that knives can have.

During the talks, photographs of stab wounds were shown to the children to demonstrate the sort of injuries that bladed instruments can cause, and also how those injuries can turn out to be life threatening and fatal.

Commenting on the awards, Chief Constable Steve Finnigan said, "Police and partner agencies take their responsibilities about raising awareness of the dangers of knife crime extremely seriously, and "Be Sharp, Think Sharp" is a fantastic example of just some of the good work being done locally.

"Due to their input into schools, officers from the Police and Ambulance services were able to reach out to the people who are most likely to be affected - whether as victims or as offenders.

"A tremendous amount of hard work went into devising and delivering the presentations and having officers from the ambulance service involved was key, since they were able to talk with a good degree of knowledge about the very real dangers of knives.

"Lancashire Constabulary has an Ambition 'to consistently be the best police force in the country', and we can only do that with the support of partners. With that in mind, I was delighted to be able to give these two officers from the North West Ambulance Service the recognition they deserve for this project."

NWAS Chief Executive, Darren Hurrell said: "The commitment and dedication of emergency service workers to the patients and communities they serve is outstanding. This campaign has received so much positive feedback which is a testament to the hard work and enthusiasm of those involved in educating the local community. It really is an honour to work with so many devoted and admirable individuals in both the ambulance and police services."