Minister praises lifesavers
Minister praises lifesavers
Friday, 08 October, 2010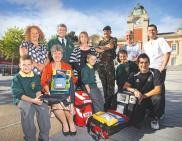 Welsh Assembly Government Minister Jane Hutt, with First Responders, from left, Jackie Byrne, Tony Rossetti, Tracey Gimlett, Glen Hall, Bryan Foley, Ford Brazel, seated, Jane Hutt AM also Group President and Cieran Thomas. The three boys are Jackie's trip


Aloyal and committed team of lifesavers
have reached another major milestone thanks to the dedication of their volunteer members. The Barry First Responders, who attend emergency medical situations all over the town, day and night, have just helped their 2000th person in their hour of need. And
they've had their praises sung by their
Patron, Jane Hutt Labour AM for the Vale
of Glamorgan and a Minister in the Welsh
Assembly Government.

Ms Hutt, the Minister for Business and Budget and assembly member for the Vale of
Glamorgan, congratulated the volunteers on
reaching their 2000th call out and said she was proud to be the patron of such a successful group.

The Barry band is the largest and busiest in the whole of Wales and since forming in October 2004 with 10 people, it now has 28 volunteers.