SP Open Day Success
SP Open Day Success
Friday, 01 October, 2010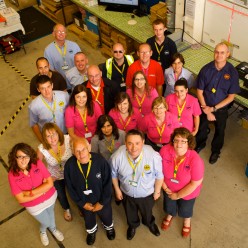 The SP Services Open Day took place on Saturday 11th September and turned out to be a massive success attracting 150 visitors. Initial feedback is that everyone had a great time and most people managed to pick up a number of discounted products and bargain buys.

Following the huge response to flyers, newsletters, word of mouth and of course the increasingly popular SP Services Facebook page, visitors started streaming into the Telford based offices shortly after opening time in the hope of being the one of the first to grab a bargain.

Visitors were treated to free gifts and were able spend the day browsing SP Services huge selection of products. Visitors also got the chance to meet representatives from Magnum and Ferno who were showcasing new and existing products. RSG also attended with their fantastic demonstration vehicle giving customers a chance to see some of SP's top products in action and preview items not yet on general release.

Many product demonstrations took place which appeared to be of great interest to the watchful crowd. Comments afterwards suggested these were incredibly useful and many new helpful tips and tricks were picked up.

In between shopping and demonstrations guests were able to relax and partake in the free food and drinks that were supplied by SP.

One open day visitor, North West Ambulance Service Paramedic Richard Mcmanus said, "It was a fantastic opportunity to look around the warehouse and meet the helpful staff. For me the best part of the open day was the ability to handle new products and be able to see the size, quality and wide range which is often overlooked in the brochure. I was able to speak to other SP Services customers and see how different organizations use SP products."

"It's certainly been a very successful day, with more than twice as many visitors as our last open day," commented Steve Bray, Managing Director of SP Services, "The chance to talk to our customers about their needs can make all the difference to our plans for products over the coming year. We're still going through all of the feedback, but based on this year's response I feel it's fairly certain the open day will become a regular event. The benefits for both us and our customers are immeasurable."

During the Saturday SP staff and customers also raised an additional £153 for the Help for Heroes Charity, supporting the men and women of the armed forces.

SP Services would like to thank everyone that came along for helping to make the day such a success.