Friends' Heroic Lifesaving Efforts Honoured in Medal Ceremony
Friends' Heroic Lifesaving Efforts Honoured in Medal Ceremony
Wednesday, 29 September, 2010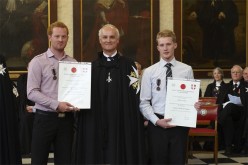 Sam (left) and Adam, right, having been awarded by the Prior of the Order, Rodney Green.
TWO heroic young men today became the latest recipients of a prestigious lifesaving award.

Sam Trewick and Adam Whitehead, both from Leicestershire, were today (TUESDAY 28th SEPTEMBER) presented with the award of the Life Saving Medal of the Order of St John in bronze. The presentation took place at Priory Church in London.

The pair were involved in a dramatic rescue attempt at Watermead Country Park, near Leicester, in the midst of Britain's severe winter conditions in January this year.

Their efforts led to the safe recovery of a man who had fallen through a frozen lake, and a valiant attempt to help bring two other men to safety who subsequently sadly died.

Adam, 23, was at home for a Christmas break from Coventry University at the time this dramatic incident took place. He and Sam, also 23, have been friends for 10 years and had set out to enjoy the wintry conditions by sledging in the popular country park.

"We became aware that something was wrong when we saw a man running away from the ice and people screaming," he recalled.

"We looked over to the ice and could see another man in the water so we grabbed a tow-rope from the car and started to crawl along the ice to try and get the man to shore.

"I knew that the more we spread ourselves out on the ice the better, so I lay down flat and moved really gently - but even so, the ice was cracking and it was a really scary time. The fact that the man couldn't speak very good English made it even more difficult and we just had to do our best to gesture to him and get him to understand our instructions."

The pair were successfully able to pull the man into shore with the rope, and only at this point did they realise two further men - friends of the first - were also in the water.

"It was an agonising decision for us when we realised there were another two men in the water," he went on.
"By this time the ice was cracking really badly and I knew how difficult it had been for the two of us to pull one man in, so as much as a part of me wanted to risk trying to get the others and going out further, I knew if I fell there was no way that Sam would be able to pull my weight in on his own."

A passer by had in the meantime called the emergency services, and a lengthy rescue effort ensued after the Fire Service had requested buoyancy equipment to make the predicament safer for the professionals.

Sadly, the efforts were too late to save the other men, but the first was treated by the ambulance crew and very quickly let out of hospital.

"We have gone through the day over and over in our heads in the last few months, wondering what else we might have done, but I realise now that there really was no other way if we were going to keep ourselves safe too," Adam went on.

"I recently attended the coroner's inquest and that helped confirm things in my mind - but until that point I had certainly been replaying it over and wishing I could have done more."

Speaking about the ceremony in which they were applauded with the prestigious Life Saving Medal of the Order of St John, Adam said: "It feels a huge honour to be presented with an award as special as this one. I had absolutely no idea that we would be attending something so formal and so prestigious."

Sam added: "We had no idea that someone had put us forward for it, but we're delighted and just feel really pleased to have been noticed for doing what anyone would have wanted to do in the circumstances to save another person's life."

The life saving award is organised and presented by The Priory of England and the Islands of the Most Venerable Order of the Hospital of St John of Jerusalem.

It is presented up to three times a year and applauds a true act of courage in an attempt (successful or otherwise) to save another's life.

"Sam and Adam thoroughly deserve praise and recognition for the lengths they went to in attempts to save not just one, but three lives on that exceptionally cold day earlier this year," said Sandra Stocker, Head of Priory Affairs for St John.

'The essence of this award is that we use the opportunity to celebrate the effort and actions of an individual whose sole intention was to save the life of another.

'Each and every day there are people across the UK whose efforts in a lifesaving-focused career are benefiting others, but there are also those whose praises deserve to be sung because they 'just happened to be in the right place'.

'We are proud of the award and of our opportunity to recognise some amazing people."