North West EMDs winners at UK Navigator awards
North West EMDs winners at UK Navigator awards
Tuesday, 21 September, 2010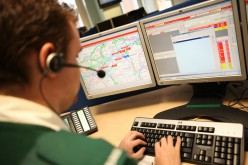 North West Ambulance Service was praised by the International Academies of Emergency Dispatch (IAED) at the UK Navigator conference and awards held in Brierley Hill on 20 September 2010.

The IAED recognised the unrelenting hard work and commitment of NWAS's emergency control centre in Broughton near Preston, Lancashire, including the centres handling of four major incidents in just eight months.

Peter Ballan, manager of Broughton emergency control centre said: "From the Cumbria floods of November 2009 where over 200 patients were assisted by ambulance crews to safety, to the Keswick coach crash involving over 30 school children and the unique multi-agency response formed for the Cumbria shootings -the staff have dealt with traumatic incidents and been under immense pressure over the last few months but have never failed to provide a professional service. The conduct they have shown has been second to none and I am proud to say that I work with them."

Managers and control staff from the trust attended the ceremony to collect the special commendation. But that wasn't it for NWAS, as Katrina Taylor, EMD, also won an award.

Katrina has worked at NWAS for two years. Her handling of a tragic 999 call and professional delivery of advanced medical priority dispatch procedures when speaking to a mum who found her teenage daughter hanging in the family home led to her being named 'dispatcher of the year'.

Pete explained: "Katrina is committed to helping people and enjoys making a difference. She has dealt with many difficult cases throughout her career. This was an outstanding call where she showed professionalism, compassion and care for the patient and relative. This really is a well deserved award."

Broughton emergency control centre covers the counties of Cumbria and Lancashire. NWAS also has emergency control centres in Manchester and Liverpool covering Greater Manchester and Cheshire and Merseyside respectively.