Lifesaver Jenny Retires from Air Ambulance
Lifesaver Jenny Retires from Air Ambulance
Friday, 17 September, 2010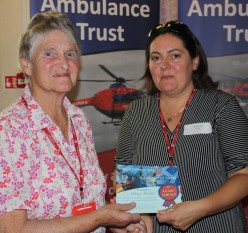 Jenny receiving her 15 years volunteer award from DAAT Chief Executive Helena Holt
Long time Volunteer of the Devon Air Ambulance Trust, Jenny Buckle, of Woodland, Ashburton has retired as a volunteer of the service.

Jenny has recently become the first of only 2 volunteers who have been presented with their 15 years long service awards.

Being a well known and loved local character, Jenny is regularly stopped in the street, and asked to go along and give talks to organisations such as the WI and Mothers' Union.

Anyone now wishing a talk should contact the Devon Air Ambulance Trust offices direct on 01392 466666 to arrange a speaker to attend.

Helena Holt, Chief Executive of Devon Air Ambulance Trust said 'We know Jenny and her family have thought long and hard about her retiring, and we are very sad to lose such a much loved and valued member of our volunteering family.

Over the past 15 years, she has been such a fantastic ambassador for the charity, having got involved after she was airlifted from Torbay to Derriford for emergency surgery, after putting her arm through her greenhouse.'

She added 'We would like to send our sincere best wishes to Jenny and husband Norman. They regularly undertook many fundraising ventures for the charity including opening their garden, with fantastic Devonshire Cream Teas and homemade cakes. Jenny also helped run our Junior Crew Club.'

Jenny's books 'A New Journey', telling the story of her journey through shock, pain, the battle to get treatment and coming to terms with personal and daily tasks that are difficult, and the sequel '10 Years on' are available to buy at the Devon Air Ambulance online shop atwww.daat.org They are a truly inspirational read.