At the HART of the action
At the HART of the action
Thursday, 16 September, 2010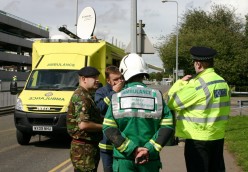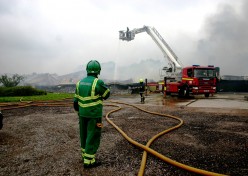 An unexploded hand grenade and a large warehouse fire kept the East of England Ambulance Service hazardous area response team busy recently.

The first call was on Tuesday, September 7, to a report of a World War Two hand grenade that was unearthed whilst renovation work was taking place on a wooden bridge in the Blind Gardens, St Georges Way, Stevenage.

HART team leader Derrick Simms, who attended the incident, said: "The workmen who found the item in the drained pond bed were very surprised at their find. They quickly evacuated the site and called for the emergency services. Our team worked very closely with the bomb disposal corps, police and fire service for nearly three hours."

Derrick added: "Further risk assessments of the incident scene carried out by the HART team had already indentified two 2,000-litre fuel tanks containing diesel fuel, close to scene which meant that the grenade could not safely be detonated in the position it had been found. Ongoing Bronze incident command briefings had identified a number of HART specific jobs at the scene which the team were able to carry out to minimize any risk to the other emergency service personnel on scene."

The grenade was detonated by the Army through a controlled explosion at approximately 2.16pm, but by maintaining good communications with the local press and with Bedford HEOC about the actual time of the of detonation, any further unnecessary 999 calls regarding the same incident were kept to a minimum.

The following day, Wednesday, September 8, the HART team were alerted from their Melbourn base to Bryanstone Road in Waltham Cross around 8.30am, to a fire which took hold of a warehouse and surrounding workshops. At the height of the fire, more than a dozen fire appliances from Hertfordshire and Essex battled to put the fire out.

HART team leader Gary Perkiss said: "HART provided operational support and medical cover to both the residents who had been evacuated as well as to the fire service. We were able to send a two person paramedic team into the fire area in our incident ground PPE providing a quick response should it be needed and also the same to the temporary shelter area. We dealt with two casualties and the team worked well throughout, again showing the importance of HART at this type of incident."