HRH Duke of Gloucester Appoints Former Chief Executive
HRH Duke of Gloucester Appoints Former Chief Executive
Wednesday, 15 September, 2010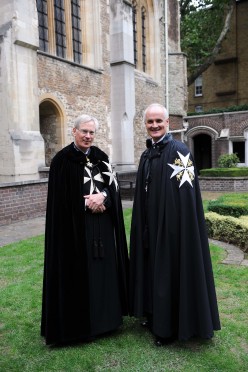 Rodney Green, former Chief Executive of Leicester City Council, has been formally installed as Prior (Chairman) of the Priory of England and the Islands of The Order of St John.

His Royal Highness The Duke of Gloucester, The Grand Prior, carried out the installation ceremony on Tuesday 14th September at The Priory Church of the Order of St John in London.

Business leaders, dignitaries and charitable heads gathered for the formal ceremony, which also marked the departure of the outgoing Prior, Sir Brian Jenkins GBE.

Mr Green is himself an accomplished business leader and came to the post of Prior late in June. The ceremony has formalised the appointment and his significant post within the historic organisation.

The Order of St John was founded as a Christian charity in the 11th Century. Today it is a Royal Order of Chivalry, with Her Majesty The Queen as its Sovereign Head. It comprises two dynamic foundations - the first aid charity, St John Ambulance, and the St John of Jerusalem Eye Hospital.

'I am delighted to be taking up this post within an organisation of great heritage and international reputation.' said Mr Green.

'It is a particularly significant time for St John Ambulance given that this year it launched a contemporary and thought-provoking campaign to raise awareness about the importance of first aid. Each year, up to 150,000 people die in situations where first aid could have given them a chance to live. St John Ambulance equips people with vital life saving skills so that they can be the difference.'

He added: 'I first undertook a St John Ambulance first aid course 40 yrs ago, and completing a refresher recently has really cemented in my mind just how important it is that we all learn such valuable life skills. If we could just have one first aider in every street, in every car, in every classroom and office, then it really would mean a huge number of lives would be saved across the UK.

'I am passionate about helping to get that message across during the period of my role as Prior and am very much looking forward to not only working with the team in London, but to visiting more than 40 counties around the country.

'At every one of those are St John Ambulance volunteers - nearly 40,000 across the country including many thousands of young people - working tirelessly in the community to ensure that first aid skills are available when and where needed.'

A father of two, 57-year-old Mr Green has been on the board of a number of organisations including, currently, British Waterways. He served on the National Advisory Panel for the Beacon Scheme and on the Migration Impacts Forum.

Married to Helen for 35 years, he was part of the Cambridge Climate Project under the leadership of Al Gore, seeking to address society's approach to climate change.

Mr Green was selected for the post after retiring from his role at Leicester City Council. He was joined at the event by his immediate family.