Woman goes the distance to say thank you for saving mum's life
Woman goes the distance to say thank you for saving mum's life
Tuesday, 14 September, 2010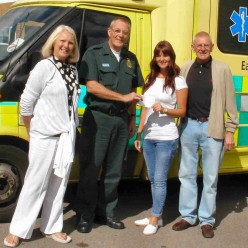 Chris, Graham, Natalie and Bill
A woman has run her first ever half-marathon to raise money for the East of England Ambulance Service after her mum's life was saved following a cardiac arrest.

Natalie Jenkins and her mum Chris and dad Bill Jenkins, who all live in Laindon, visited Basildon ambulance station to present a check for £300, which EMT Graham Hubble accepted on behalf of the Trust.

When Chris, 62, suddenly suffered a cardiac arrest at home last summer, her husband Bill was with her but had never had any training in CPR. Despite this, when he called 999, the call handler talked him through the life-saving technique, allowing him to begin CPR prior to ambulance crews' arrival.

Within two minutes of the call, paramedic Dot Trigg arrived in a rapid response car and took over the resuscitation efforts. She was quickly backed up by Tracey Valentine and Gareth Williams in an ambulance. Chris said: "I don't remember what happened, but I know the ambulance staff were brilliant."

Chris was taken to the Essex Cardiothoracic Centre for treatment and eventually made a full recovery. When her daughter Natalie decided to run a half-marathon, she knew she wanted to do it to raise money for a cause she felt passionate about.

"My mum is only alive today because of the ambulance service, and we just feel so grateful," she said. "That half-marathon was the furthest I've ever run in my life, and I completed it in a pretty good time. It's very satisfying to have done it while raising money for such a great cause."

Simon Eatherton, general manager for south Essex, added: "It's been really good to hear from this family about the difference the ambulance service has made to their lives. Well done to Natalie for running a half-marathon, and thank you for the donation - it really does contribute to our life-saving operations."