Crewe girl 'amazing' says paramedic
Crewe girl 'amazing' says paramedic
Tuesday, 14 September, 2010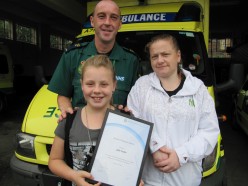 A girl from Crewe received praise from the North West Ambulance Service NHS Trust for her courage when faced with an emergency concerning her mum.

Jade Mellor, age 10, called 999 for an ambulance when her mum Lisa, who has suffered with ill health for years, had diabetic complications and was even unconscious for a short time.

Paramedic Steve Ball said: "I'm so impressed with Jade. She just knows what to do to help her mum and doesn't think anything of it. Whilst waiting for us to arrive in the ambulance Jade followed all the advice given to her such as making a sugary drink for her mum, trying to feed her and taking her blood sugar levels. When we got there she gave us a full medical history for her mum. For a child of ten I was really very impressed with how she dealt with the situation. She was calm and collected and took it all in her stride. She really is amazing."

Jade was presented with a bravery certificate and her very own mini ambulance at Crewe ambulance station where she was given a tour of two different ambulances and met the town's paramedics.