Rodders calls it a day
Rodders calls it a day
Monday, 13 September, 2010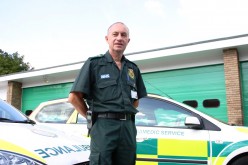 After nearly 33 continuous years within the ambulance service, duty operations manager Rod Taylor has finally begun to wind down.

Rod, who is best known as 'Rodders' to his friends, is based at Letchworth ambulance depot. On Thursday, August 31, Rod stepped down from full time duties and has began a shorter shift pattern continuing as a DOM in North Herts.

Rod has been based at various stations throughout his lengthy career, mainly in Bishops Stortford, Biggleswade and Royston. Following his last full-time shift, friends and colleagues joined Rod at the Broadway Hotel in Letchworth to pass on their wishes and talk about his lengthy career.