In the right place at the right time
In the right place at the right time
Monday, 06 September, 2010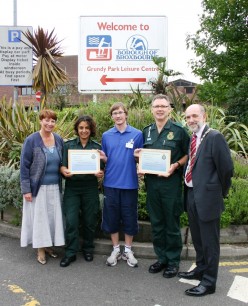 left to right - Kenneth's wife Denise Travers, Ellie Lorne, Luke Salmon, Nigel Sale and Mayor Mark Mills-Bishop
A leisure centre duty manager who assisted in the successful resuscitation of a man who suffered a cardiac arrest, has been commended by the East of England Ambulance Service.

Cheshunt based paramedics Nigel Sale and Ellie Lorne were alerted to the Grundy Park Leisure Centre on Friday, August 13, to a report of a man who had collapsed whilst playing badminton. On their arrival, they were greeted by the centre staff who directed them to the patient who was found in a critical condition.

Prior to their arrival, duty manager Luke Salmon had already commenced basic life saving procedures on badminton player Kenneth Travers, aged 72. Luke continued to assist the crew whilst they administered one shock from a defibrillator and following two minutes of cardio pulmonary resuscitation (CRR), the patient began to respond to treatment. He was rushed to an awaiting medical team at Chase Farm Hospital where he is making a good recovery.

On Saturday, September 4, Ellie and Nigel, joined by the trusts communications manager Gary Sanderson, made a special visit to the Grundy centre to personally thank the centre staff and commend Luke for his actions. Nigel said: "Both my colleague Elle and I agree that if it was not for Luke's quick actions on the day, this incident would have turned out a tragedy. It proves that having a basic understanding of how to save a life will give the patient a far greater chance of survival."

On receiving his certificate, a very humble Luke said: "I would like to say a big thank you for the certificate of appreciation from the ambulance service, and a big thank you to Nigel and Ellie for getting to us so fast. It was a very big relief to see them walk through the door, they gave great instruction throughout."

Councillor Hazel Jackson, Chair of Community Services at the Borough of Broxbourne Council was extremely pleased with the way staff at the leisure centre, she said: 'In such awful circumstances, I am so proud of the way that staff at Grundy Park Leisure Centre, in particular Luke, who dealt with this situation in such a quick and professional manner. It is staff like this, who make the centre what it is and they should be highly commended for their prompt actions."

The Mayor of Broxbourne, Cllr. Mark Mills-Bishop gave up his free time and attended the presentation after hearing about the successful resuscitation, he said: "My thanks goes to Luke Salmon for his swift action he took to perform CPR on Mr Travers, who had collapsed whilst at the centre. It is quite clear that the quick, timely intervention by Luke undoubtedly assisted in saving the man's life along with paramedics Ellie and Nigel. I am extremely proud of them all."