'Paramedic bike' will promote road safety
'Paramedic bike' will promote road safety
Wednesday, 11 August, 2010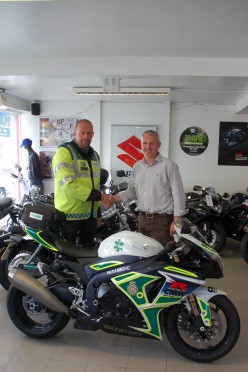 A South East Coast Ambulance Service NHS Trust (SECAmb) paramedic is set to tour the region with a new eye-catching motorbike as part of the Bike Safe road safety initiative.

Paramedic Chris Attfield has been loaned the Suzuki GSRX 1000, which has been wrapped in SECAmb livery, by CMW Motorcycles in Chichester.

Chris will use the bike to work alongside Sussex Police, West and East Sussex Fire Service's casualty reduction teams and council road safety teams at events such as emergency service days and motor vehicle shows across the region.

He will promote road safety awareness and to help spread the Bike Safe message. He will also use the bike at Bike Safe courses of which he is a qualified assessor.

Chris said: "The bike is really eye-catching and works really well when we're explaining the importance of road safety. We can use it to speak to bikers themselves but also other drivers, cyclists and pedestrians. We're really grateful to CMW for their support in spreading such important messages to reduce the number of motorcycle casualties on the roads."

CMW Managing Director Richard Morgan said: "We're delighted to have been able to team up with Chris and Bike Safe in this way. CMW Motorcycles are extremely proud to have donated a bike to such a worthy cause and to we were keen to help in any way possible to help promote Bike Safe and everything it represents."