Paramedic pedals miles for charity
Paramedic pedals miles for charity
Thursday, 15 July, 2010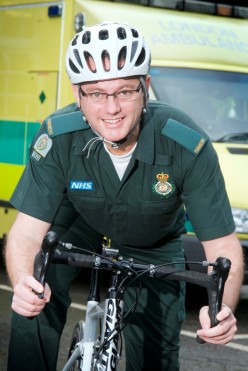 A Greenwich paramedic pedalled hundreds of miles in support of wounded soldiers.
Steve Berry cycled the 350-mile route alongside 275 others, including injured ex-service men and women, for the Battlefield Bike Ride 2010.

They set off from Portsmouth in May before crossing the channel and taking in the French battlefields of the first and second World Wars.

Steve, who used to be in the Territorial Army, said: "It was physically and emotionally tough. It was a great atmosphere - with everyone helping each other and the former soldiers were a great inspiration. It was also a great history lesson for me and I saw some amazing things."Steve raised over £3,000 for Help for Heroes charity and in total nearly £1 million was raised from the seven-day event.

He added: "I'm really grateful to everyone who donated money - I was overwhelmed by how generous people have been. I'm now planning to do it all again next year."