Colin calls it a day
Colin calls it a day
Friday, 09 July, 2010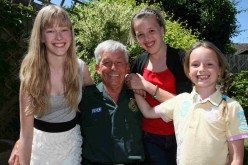 A career spanning nearly four decades came to an end for a popular East of England Ambulance Service paramedic as he began his retirement.

Colin James hung up his greens last Wednesday at Brentford station after his last shift of 36 years of service, and he and colleagues enjoyed a leaving do in Brentwood on Friday. Having made some enquiries with people in the know, Colin gained the necessary qualifications and started at Billericay station in April 1974:

"I hadn't known the first thing about first aid, so it was a little bit daunting!" Colin moved to Brentwood station the following year where he remained, and he's mainly worked on a response car for the past few years. He gets spotted out and about in Brentwood, and even recently attended a young male patient whose mum recognised him immediately as the paramedic who had delivered her son when he'd been born 21 years earlier.

The 63-year-old, who is married to June, said: "The time has gone so quickly. I'll miss my colleagues and miss those 'proper' jobs when you have to put your thinking cap on." Colin and June, who have six children and nine grandchildren, plan to spend a lot of time at their home in Spain.

East of England Ambulance Service associate director of emergency operations Neil Storey said of Colin: "To work for nearly four decades in the same job is a phenomenal achievement. Colin's commitment and diligence has always been evident throughout the varied incidents he has dealt with over the years, and we all wish him the very best for the future."