Chris solves the case of the missing ring
Chris solves the case of the missing ring
Thursday, 08 July, 2010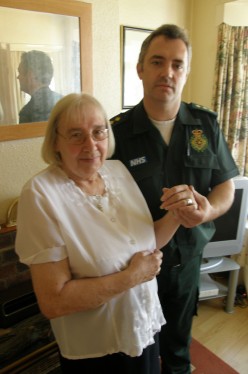 A Southend pensioner has been re-united with a ring she thought she'd lost forever, thanks to the quick-thinking of duty operations manager Chris Allen.

During a recent parade by the Royal Anglian Regiment in Southend High Street, Ellen Durnsford's sister-in-law collapsed while in the crowds which had gathered to watch the procession, and Chris was dispatched to attend to her. While dealing with the incident, he noticed a gold ring on the ground and assumed it was the patient's property but when it materialised it wasn't, he asked the communications team to put an appeal in the Echo newspaper asking for the rightful owner to claim it.

Recently, Mrs Durnsford rang one of the reporters to say it was hers, Chris and one of the Trust's communications managers Joy Hale, visited her to return the much-loved ring. Mrs Durnsford said: "I'm so pleased that I've got the ring back. As soon as I read that Chris had it, I thought it had to be mine."My late husband gave it to me, and it has my birthstones in it; I turn 76 at the end of July so it's very fitting that I have it back. It's lovely that Chris took the time to track me down, I'm so pleased to see it again."

Chris added: "It was just really good to be able to get the ring back to the right owner. Knowing that it was a gift from her late husband and that it has a great deal of sentimental value means a lot, and I'm glad I've been able to help."