Paramedic praised for treatment of a baby
Paramedic praised for treatment of a baby
Wednesday, 07 July, 2010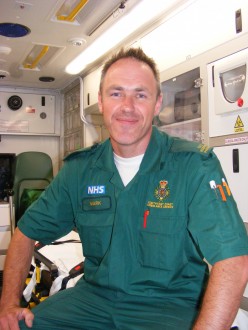 A Bognor Regis paramedic has been praised for the treatment he provided to a 19-month-old toddler.

Mark Spencer, who has worked in the ambulance service for nine years, was commended for his actions by Specialist Registrar in Paediatrics from St Richard's Hospital, Doctor Nirajan Mukherjee.

Dr Mukherjee passed on his comments to Mark and his colleague technician, Steve Leggatt, after they were called out to Joshua Lo, who suffers from a rare form of epilepsy called West Syndrome, at 5am, on Monday, 22 March.

Joshua had suffered a number of seizures and had a very high temperature, when his father, Danny Lo, dialled 999.

Dr Mukherjee said: "Mark and Steve managed the treatment of this young boy very well. I was particularly impressed by the fact that Mark cannulated.

"I have yet to come across another instance of a paramedic cannulating such a young child at home in my fairly long career."

Mark had carried out the cannulation, which involves inserting a cannula into a vein, as a precautionary measure as it may have been necessary to administer drugs or fluids.

Mark said: "My reason for cannulating was that Joshua had been suffering from seizures as well as suffering diarrhoea and a high temperature. I had already administered anticonvulsant medication and in the back of my mind, I thought it may be necessary to administer further drugs and fluids."

"It was merely a precautionary cannula as I know just how quickly children can become very poorly."

Joshua was admitted to the Chichester hospital's paediatric ward before being discharged later the same day.

Joshua's father, Danny said: "Joshua has very complex needs and is often admitted to hospital. On this particular day, he had suffered quite a few spasms and he was clearly very unwell which was why we called for an ambulance.

In recent months, Joshua's condition has stabilised and we've have not needed to call for ambulance.

"However, whenever we have had to call, the staff have arrived here extremely quickly and have always provided very good quality care."