Health promotion a success
Health promotion a success
Monday, 05 July, 2010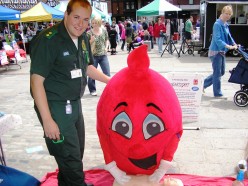 The East of England Ambulance Service trust's community partnership team have been out and about again, when they lent support at the annual Hitchin Health Promotion event organised by the Rotary Club.

Stuart Reeves and Simon Marshall spent Saturday, June 19, speaking to visitors to the event in the picturesque Market Place alongside representatives from Hertfordshire Constabulary, NHS Hertfordshire, the National Blood Service, Stop Smoking Service, and the Stroke Association. There was also a programme of entertainment including tai chi, several dance groups performing various multi-cultural routines and Dance Beat, who provided dance acts music throughout the day.

Simon said: "The aim of the event was to raise awareness of healthy living. Our stand was set up to demonstrate how we teach BLS and the use of AEDs within the community. Children and adults participated in resuscitation demonstrations and learnt tips on basic first aid. "We also actively gained interest in the recruitment of potential new community first responders." Following on from the successful day, the team have already been asked to attend next year's event.