Amelie beaming with joy
Amelie beaming with joy
Monday, 05 July, 2010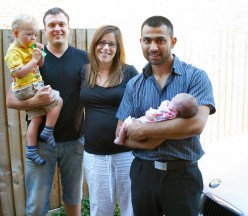 An emergency operations centre call handler has been praised for helping deliver a baby girl over the telephone.

On Wednesday, June 23, Luton based paramedics were alerted to Woodman Close in Leighton Buzzard, shortly before 5.30pm. When the original 999 call was taken at the Bedford emergency operations centre, James Cartwright who made the call stated his wife Lyndsay was sitting in the front passenger seat of a BMW, and was ready to give birth.

Whilst ambulance crews made their way to the scene, call handler Riyad Muhammad, gave advice on how to deliver a baby over the phone to James. Riyad said: "This is the first time I have assisted in the delivery of a baby over the phone since I have been working in the ambulance service. During the call, the man kept very calm and listened to my advice, and shortly after, a baby girl entered the world."

On Monday, June 28, Riyad was invited along to meet up with the Cartwright family at their home in Leighton Buzzard. James commented on the Riyads help over the phone, he said: "Riyad kept calm, cool and gave me all the tips I needed to help in the safe birth of our daughter, Amelie Jaimie. My wife Lyndsay and I cannot thank him enough."

Carl Denton, general manager for the Bedford emergency operations centre said: "Riyad was able to remain calm and give the expectant father all the necessary advice to deliver the baby as smoothly and safely as possible before the arrival of the ambulance crews. Bearing in mind that Riyad has been with us since November last year, he has done remarkably well, we are all very proud of him indeed."

Picture - James, Lyndsay and Riyad holding baby Amelie Jaimie.