Alfie saves the day
Alfie saves the day
Monday, 05 July, 2010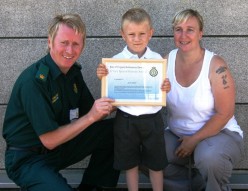 When a woman was taken unwell in her Stevenage home back on Monday, June 14, she was unaware the hero of the day would be her 5-year-old son.

Gill James, aged 43, was at home with her two sons, Alfie and Ben and whilst she was busy cleaning her kitchen she fell awkwardly. After twisting her shoulder, and in considerable pain, she passed out on the kitchen floor. Her son Alfie, aged 5, began to try and wake his mum up who was unresponsive.

Whilst Alfie was doing this, he managed to locate her mobile phone, unlock it and dial 999 and ask for help. Quickly on arrival were emergency medical technicians, Pete Adams and Paul McCarthy from Letchworth station. They were greeted at the front door by Alfie and his brother, and led them to their mum. Jill was conveyed to the Lister Hospital and discharged shortly after.

On Monday, June 28, East of England Ambulance Service communications manager Gary Sanderson, made a surprise visit to Fairlands Primary School in Stevenage, to present Alfie with a special bravery award on behalf of the trust, he said: "It was an absolute pleasure to meet Alfie and his mother Gill. To present his award during the school assembly made the whole event very special. It's amazing to think that he is only 5-years-old and done everything right when dialling 999 and asking for an ambulance, he thoroughly deserves his award."

A very proud mother Gill said: "Alfie is my little hero. I am still amazed he done what he did on the day. I think he is now enjoying his celebrity status now by being in the local newspapers and appearing on the television."