Explosive 'Mini Majax' proves a hit with East of England Ambulance Service staff
Explosive 'Mini Majax' proves a hit with East of England Ambulance Service staff
Tuesday, 29 June, 2010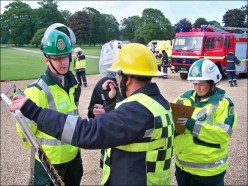 Eager staff and volunteers have been praised for their part in a major incident scenario which recently took place.

'Mini Majax' was held at Houghton Hall near Kings Lynn on Tuesday, June 15, and was organised by Norfolk Fire and Rescue Service. The incident was an explosion in the basement corridors of Houghton Hall, involving some workmen. The group - student paramedics Sarah Allum, Cheryl Dempsey, Matt Reeve, Mike Heppell, Norwich dispatcher Laura Hone, and RAF Responders Sgt. George Denman and Kevin Fergusson - arrived and met with the fire service before the major incident plan was started to deal with the six live casualties and five dead.

Kings Lynn paramedic Paul Chittock, who coordinated the ambulance service's role, said: "Our students and the RAF Responders took turns at being incident commanders, casualty triage officer, and casualty clearing officers. A good written log was kept by the students, dispatcher and the RAF Responders in all the roles they took part in.

"The 'casualties' were appropriately sent to several hospitals in the area so as not to overload each A&E department. "The incident was managed very well by all the staff involved, all who had done less than a year's service; the RAF Responders had not taken part in an ambulance service major exercise before." Paul gave his thanks and appreciation to the group who volunteered to do this in their own time, and praised the staff for their hard work and incident management.