999 Pedal Power
999 Pedal Power
Tuesday, 08 June, 2010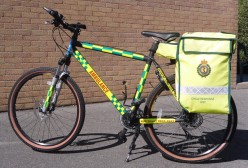 It's not something you see every day - a paramedic responding to 999 emergency calls on a mountain bike. But that's exactly what the South Western Ambulance Service is bringing to Weymouth this summer season; a fully equipped bike, ready to respond including oxygen and a cardiac defibrillator.

The Cycle Response Unit (CRU) scheme has already operated successfully in previous years, and it is hoped that, following a monitoring process of this year's activity, the project will be rolled out as a permanent resource every summer.

The scheme will operate from Friday 11 June until the end of August, with Weymouth based Paramedic Matt Care in the saddle.

The use of the mountain bike contributes as an additional resource in the crowded town centre, harbour and seafront areas. This means that patients can be reached and treated even more quickly. During the peak summer season each year, 999 calls in Weymouth town centre increase significantly due to visiting tourists, and the use of a mountain bike helps to overcome the problems of accessibility along congested streets and densely populated pedestrianised areas.

The bike has supported many incidents involving patients with a life threatening condition including cardiac arrests, strokes and choking. It is also a very environmentally-friendly resource, and positively promotes healthy living.

Similar schemes already exist in various locations around the UK, including London, Leeds, York, Salisbury and Brighton. The majority of these initiatives revolve purely around the provision of emergency medical aid by paramedics and emergency medical technicians.

Weymouth's CRU reflects this model, but will also benefit from regularly working in a multi-agency approach. Dorset Police currently use mountain bikes to patrol around Weymouth, which are staffed by police officers and Police Community Support Officers (PCSOs). The CRU will also work closely with Weymouth Street Pastors; a group of volunteers who offer help and guidance to members of the public at weekends.

The CRU can regularly make the clinical decision to "stand down" an ambulance which would routinely be dispatched to life-threatening 999 calls to continue treatment and convey the patient to hospital. Working closely with the Weymouth Minor Injuries Unit and GP surgeries, patients can often be referred to these services when appropriate, in turn freeing up an ambulance to attend other more serious incidents.

Another major benefit of having the CRU operational and based in the town centre is the prevention of ambulances being called via the 999 service, where appropriate.

Matt Care would like the public to be aware of the bike responding to emergencies in the town centre, and to look and listen out for the bike, which is fitted with blue lights and a siren. He said, "I am delighted that the Trust can provide this innovative service to residents and visitors alike and sincerely hope that it is as successful as in previous years."