Community trainer welcomed
Community trainer welcomed
Thursday, 03 June, 2010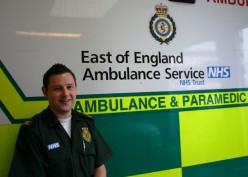 The East of England Ambulance Service community partnership team covering Bedfordshire and Hertfordshire, has welcomed a new member its department..

Simon Marshall, commenced his new role as Community Partnership Training on Monday, June 1. Simon has been working as an emergency medical technician for the last three years based at Kempston ambulance station. Community partnership manager Steve Catley said: "On behalf of the trust, I welcome Simon to our team. I am sure Simon will be meeting up with staff over the coming weeks and we wish him well in his new position."

Speaking on his new role, Simon said: "I am really excited about my new role and I am looking forward to working alongside the team as we continue to engage with the communities within the East of England. My priorities are to engage with the public and raise the awareness of our trust."