Man praised for saving his neighbour
Man praised for saving his neighbour
Thursday, 27 May, 2010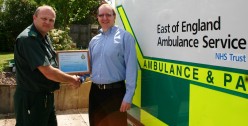 Steve presenting Grant with his certificate at Letchworth station.
A man who saved his next door neighbour from a smoke filled kitchen has been commended by the paramedics who attended the scene.

On Thursday, May 13, Grant Cameron was arriving at his Letchworth home, when he heard a fire alarm activating at his next door neighbours house. Grant made his way in to the back garden and saw smoke coming out of the kitchen window. Looking through the door, he could see his 90-year-old neighbour slumped over a table. When Grant opened the backdoor, the man was unconscious.

Paramedic Sandy Swann and her colleague Ken Bradley were quickly at the scene, Ken said: "When we arrived, Grant had done a terrific job getting all the smoke out of the kitchen, making the property safe and caring for his neighbour. He can be very proud that he has no doubt saved his life."

Last Friday, a very humble Grant was invited along to Letchworth ambulance station to receive a certificate of appreciation on behalf of the trust, Grant said: "I cannot thank Ken and Sandy enough for their very quick response and their professionalism shown whilst caring for my neighbour. He is still in the Lister Hospital in Stevenage following surgery and he is making good progress."

Assistant general manager Steve Davey, who presented Grant with his certificate said: "It was an absolute pleasure to meet up with Grant and thank him on behalf of the trust. I have heard from the crew that Grant's prompt actions have no doubt contributed to the gentleman's road to recovery." Both Ken and Sandy were unable to attend the presentation due to work commitments.