'Simon says, help is on its way'
'Simon says, help is on its way'
Thursday, 13 May, 2010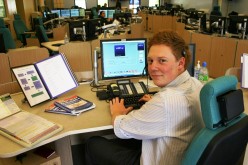 An emergency operations centre call handler has been praised for delivering a baby girl over the telephone on Tuesday, May 11th.

Bedford based emergency call handler Simon Fisher, aged 20, received a 999 call to a woman in labour, in a car at the Cock public house, High Street, Colney Heath shortly after 8.30am.

Whilst ambulance crews from Hatfield and Welwyn Garden City raced to the scene, Simon began to reassure the man who made the emergency call and talk him through the delivery of the child. Throughout the nine minute call, Simon was able to give expert advice to the father and after several minutes, Simon could hear a scream at the other end of the phone, and much to his delight, a baby girl entered the world.

Speaking about the first baby he has helped deliver over the phone, Simon added: "This is not a normal place to give birth to a baby and I am pleased I could help out the father when their baby unexpectedly came out very quickly. I am very proud that everything went smoothly and both, mother, baby and the father are all doing really well."

Carl Denton, general manager for the Bedford office emergency operations centre said: "Simon was able to remain calm and give the expectant father all the necessary advice to deliver the baby as smoothly and safely as possible before the arrival of the ambulance crews. Bearing in mind that Simon has been with us since December last year he has done remarkably well, we are all very proud of him indeed."

Following further assessments at the scene by the paramedics, both the mother and the baby were taken to the QE11 hospital in Welwyn Garden City.

The East of England Ambulance Service wishes to pass on their best wishes to the family involved.