Leisure centre staff praised
Leisure centre staff praised
Thursday, 13 May, 2010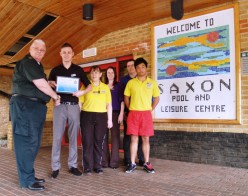 Picture attached shows Phil Cordon presenting the certificate of appreciation to the staff from Saxon Pool and Leisure Centre.
Five members of staff who leapt in to action when woman collapsed near to a swimming pool, have been commended by local paramedics for their actions.

On Wednesday, May 5, a woman who is a regular visitor to the Saxon Pool and Liesure Centre in Biggleswade was taken ill whilst swimming. After raising the alarm she was feeling unwell, she was removed from the pool by life guards and placed in a chair whilst an ambulance was called for.

Biggleswade based Station supervisor Steve Anderson was first at the scene, he said: "When I arrived, the woman had deteriorated and was being resuscitated by the life guards and management team at the poolside. Sadly after everyone's best efforts and the assistance of a doctor from the air ambulance, the woman sadly died at the scene."

Steve was so impressed by the way the leisure centre staff reacted to the incident, he contacted the communications department and asked if they all could be commended for their assistance. On Tuesday, May 11, assistant general manager for North Bedfordshire, Phil Cordon, made a special visit to meet up with the team, he said: "It was an absolute pleasure to meet up with the team and personally thank them for going 'above and beyond the call of duty' on this very sad day. They all have a basic understanding of first aid which they all put in to practice and tried in vain to save the woman's life. They all thoroughly deserve their commendation from our trust."

Jonathan Stone, Marketing Director for Stevenage Leisure Ltd, who attended the presentation said: "Our poolside staff are highly trained in how to respond to emergencies such as this. Whilst we are obviously pleased in how they reacted, and that their heroic efforts have been rightly recognised by the ambulance service , we are sorry at the tragic outcome and we offer our sympathies to the woman's family involved."