Charity is the name of the game
Charity is the name of the game
Thursday, 13 May, 2010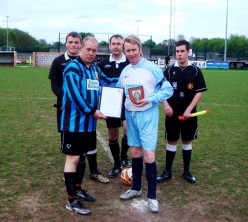 Captain Gary Sanderson presents Colts manager Tony Capener with a trust shield before kick off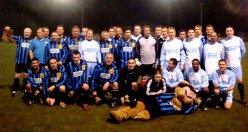 AFC Kempston Colts are in dark blue and the EEAST side in pale blue
A select team of football players from Bedfordshire EOC, Hertfordshire and Luton took on a select AFC Kempston Colts Managers on Friday, May 7th.

The aim of the game was to raise money for the East Anglian Air Ambulance Charity and a whopping grand total of £725.00 was raised on the evening A huge crowd in excess of 200 members of the public watched a terrific game which eventually turned out a six all draw. The ambulance service goals were scored by Adam Picairn (2), Gary Sanderson (2), and one a piece by Raynard Robinson and Lucy Burton.

Gary Sanderson who arranged the ambulance team said: "The night was amazing and we all did not expect the large crowd when we arrived.. The AFC Kempston Colts management team made us all very welcome indeed. Due to the successful night, both teams will be making this a yearly event and the trophy which was kindly supplied by AFC Kempston Colts will be known as the 'Andrew Wilson Memorial Trophy'. This is in memory of Andrew who worked at the Bedford EOC who sadly died recently."