South Western Ambulance Service employee named Emergency Control Room Manager of the Year
South Western Ambulance Service employee named Emergency Control Room Manager of the Year
Wednesday, 28 April, 2010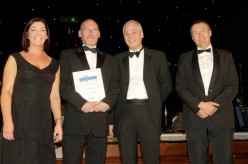 (left to right) Ann-Marie Stagg, Chair of the CCMA(UK), Andy Perris from SWAST) Duncan Swan from Award Sponsors Analysys Mason and Assistant Chief Constable Ian Dyson from the Surrey Police.
At an awards ceremony in Manchester recently, a South Western Ambulance Service employee was named 'Emergency Control Room Manager of the Year'. The award category was open to all managers of emergency control rooms across the country working within the fire, police and ambulance services.

The Call Centre Management Association (CCMA) run an annual awards scheme and Andy Perris, who is Head of Operations for Control at the Trust, was named as the winner. This is the third consecutive year that Andy has been successful in winning an accolade from the CCMA. Based at the Trust Headquarters in Exeter, Devon, Andy manages two Clinical Hubs (control rooms), one at Headquarters and the other in St Leonards, Dorset. The Trust serves Cornwall and the Isles of Scilly, Devon, Dorset and Somerset, and takes approximately 1500 calls during every 24 hour period.

South Western Ambulance Service is pleased to be the top performing ambulance service nationally and it is Andy's team which makes a valuable contribution to its success by expert call management and rapid vehicle despatch. His team also includes Clinical Advisors, who deal with thousands of non-emergency calls. In the Dorset hub, the Trust provides the Out of Hours service for Dorset and Somerset and these staff are control room based too.

Speaking at the awards dinner to an audience of over 350 UK call centre professionals, Ann-Marie Stagg, Chair of the Call Centre Management Association said: "Andy is an outstanding manager in every sense of the word and has been recognised for his achievements by the Association in previous years. It was clear to the CCMA judges once again this year that Andy continues to develop his skills, that he leads a first class Control Room and takes a very active role by developing best practise and in improving the standards of the Ambulance Service across the country. The CCMA believes that Andy is a very well deserved winner and an inspirational role model to the Ambulance Service"