Luton says goodbye to ambulance stalwart
Luton says goodbye to ambulance stalwart
Thursday, 22 April, 2010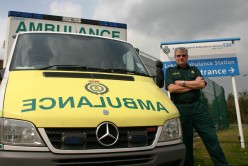 Emergency medical technician George Walsha


A long serving ambulanceman has booked off duty for the very last time on Tuesday, April 20.

Emergency medical technician George Walsha, has hung up his responder bag after 34 years in the ambulance service. George joined the ambulance service back in March 1976. He has spent his entire career working at Luton ambulance station. Commenting on his service, George said: "Back then we were using the Bedford CFs 2 litre auto's with sliding doors and those awful air horns, which made as much noise inside the cab as out, which is probably why my hearing is on the blink now. As most people on station say, they know when I'm on as 'the television is too loud'."

Gary Sanderson, communications manager for Beds & Herts, met up with George on Tuesday, he said: "Through Georges lengthy career, he has 'seen it and done it', and the list of stories both sad and funny are endless. George said: "Gary asked me if I had any funny stories to put in Focus East, well yes I have loads but don't think they would get printed. There is this one that sticks in my mind though"

"Many years ago, we also had to take people home after being treated at the accident and emergency departments. Late one evening we had picked this chap up in his eighties to go home, When we asked him his address he told us the road but couldn't remember the number, but said I'll show you the house when we get there. As we drove slowly down the road he says that's the one, pointing to a house. So we put him on our chair, wrapped him up in a blanket and took him to the front door and rang the bell. The door was answered by an old lady of a similar age. Hello I says, we have brought your husband home. She just said oh, and stepped back so we took him in, unwrapped him and sat him in the chair. We were just about to leave when she said: "Excuse me but who is this". Its your husband I said. No he's not she replied, he doesn't live here. Needless to say we eventually got him to his own house in the end."

On Georges very last shift, Dave Fountain, general manager for Bedfordshire and West Hertfordshire, made a special visit to see him at work, and personally thank him for his dedication and professionalism shown during his career, Dave said: "It has been a pleasure to have known George and I wish him all the very best on behalf of the trust in his retirement. He has been a role model to all staff during his 34 years service and he will be sorely missed by everyone who had the pleasure to work with him"

Reflecting on his career, George said: "All of my service has been on front line in Luton, which I am very proud of. I cant believe my retirement has come around so quickly, the time has flown by. I still enjoy it as much now as I did at the start. I will miss the job, also my colleagues from Luton and the many other stations that I have got to know over the years."