Hertfordshire too hot for South Central
Hertfordshire too hot for South Central
Thursday, 22 April, 2010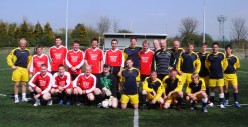 Herts in red and South Central in the yellow strip



The Hertfordshire locality football team notched up another win against South Central Ambulance Service.

On Sunday, April 18, the teams met for the first time at the Arena football club in Baldock. The game was played in glorious sunshine, which took it's toll on several players during and after the game. The first half was quite even until a minute before half time when Dan Hansen sent over a pinpoint ball to Gary Sanderson who beat the offside trap and volleyed in from close range.

The second half was pretty much the same, several missed chances from both sides and South Central pulled one back and made it 1-1. During the first half, Herts keeper Darren Southam pulled off some good saves, but was rarely troubled. Tired legs, sunburn and dehydration was taking its toll on the players. Plenty of goal mouth scrambles and several superb saves from Centrals goalie kept the score level.

Finally a looping ball from again from Dan Hansen dropped on the foot of Gary who volleyed home for his second from an acute angle. By now South Centrals heads were down and Hertfordshire were able to step up the pace. Shortly before the final whistle, Mark Laister laid a perfect pass for Gareth Hopkins who blistering shot fell out of the goalies hands and straight to the feet of Gary who tapped in to complete his hatric. Gary said: "The lads once again played really well and to beat another trust side is excellent. We hope to play the Central team again at their home pitch in Milton Keynes."