Managers' results reveal match-day pressure
Managers' results reveal match-day pressure
Wednesday, 07 April, 2010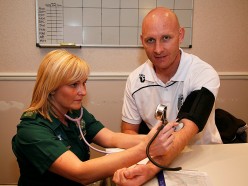 Pictured with Mark Stimson is SECAmb paramedic Karen Rendall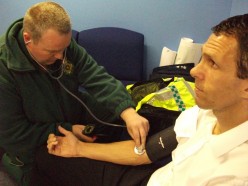 Pictured with Gus Poyet is SECAmb paramedic Roy Nightingale



Football league clubs Brighton and Hove Albion and Gillingham have leant their support to a campaign aimed at getting people to have their blood pressure checked regularly.

Managers Gus Poyet and Mark Stimson, whose teams square up against each other next week (Tuesday 13 April) at Gillingham's KRBS Priestfield Stadium, recently had their blood pressure checked before and after crucial league matches ahead of 'Know Your Blood Pressure Day' on Saturday 17 April.

South East Coast Ambulance Service NHS Trust (SECAmb), in partnership with South West Ambulance Service and the Stroke Association, has helped developed the national public awareness day, which will see SECAmb clinicians taking people's blood pressure for free at a number of locations across Kent, Sussex and Surrey -(see notes to editors for locations).

Further events organised by groups including local Rotary clubs will also be taking place on or around April 17.

The events will give members of the public a chance to be checked to ensure they are not at an increased risk of suffering from serious conditions including stroke because of high blood pressure.

Both Gus and Mark saw their sides beat Tranmere and Southend 3-0 respectively but the stress and excitement of the end of season clashes resulted in changes in the blood pressure of both bosses.

Gus saw his level rise from 130/70 before kick-off to 150/90 shortly after the final whistle. However, Mark's relief was perhaps clear to see with his test showing a lower reading after the game at 110/60 and 130/80 before the game - although this was shortly after a highly charged pre-match team talk.

Speaking ahead of this week's crunch match, where stress levels are bound to rise once again, both managers were keen to encourage others to take advantage of an visiting an event near them on April 17.

Gus said: "It was interesting to see how my blood pressure rose when under stress and excitement. I think the results work as a good example to show the kind of things that can make people's blood pressure rise in everyday life and why it's important to have it checked regularly."

Mark added: "Us managers can get rather stressed on match day. It was a must-win game for us and I guess I was more relaxed after the final whistle! I was keen to be involved when the ambulance service asked me to be and I'd encourage others to have their blood pressure measured to ensure they're not at risk of serious conditions including stroke."
Away from the football field, a recent YouGov survey commissioned by the Stroke Association looked at what makes Britain's blood boil.

Across the South, some 93 per cent of us say that something in everyday life makes our blood boil on a regular basis; with bad manners, bad driving and reality shows cited as the main reasons.

Four out of every five of the South's adult population say that bad manners or rudeness really leaves them seething, while more than 60 per cent say that bad driving really winds them up.

As well as a lack of manners, queue jumping and speaking too loud on a mobile phone were the unpopular habits in other people that we find most annoying.

It seems Big Brother, I'm a Celebrity...and other such TV programmes grate with the men in the UK much more than women with 38 per cent saying reality shows make their blood boil, compared to only 27 per cent of women.

A worrying one in five people say that they can't remember the last time they had their blood pressure checked and almost half of people don't feel that their blood pressure increases when they get stressed about something, when in fact it does. Regularly increasing stress levels therefore puts you at a higher risk of conditions including stroke.

At SECAmb's Know Your Blood Pressure events members of the public will not only have the opportunity to have their blood pressure measured but will also have their pulse monitored and if irregular have an ECG (electrocardiogram) check. SECAmb will also be teaching the FAST test - a test to perform in an emergency when someone is suspected of having suffered a stroke - (see notes to editors).

SECAmb Paramedic and Stroke Lead David Davis said: "It's extremely important that people, whatever their age, know their blood pressure and have it checked regularly. This can of course be carried out with a visit to a GP but 'Know Your Blood Pressure Day' is an ideal opportunity for people to have their blood pressure checked for free at convenient locations in their area. It's great that the ambulance service has been able to team up with the Stroke Association provide these opportunities.

"The ambulance service has an important role to play by educating the public in how they can help prevent themselves from developing serious conditions. People with high blood pressure are at greater risk of suffering from conditions such as stroke. If anyone suspects someone has suffered a stroke they should not hesitate to act FAST and call 999 for an ambulance immediately."

Laura Dart, Deputy Director of Communications at the Stoke Association said: "It's estimated that 40% of the 150,000 strokes suffered by people in the UK each year could be prevented by controlling high blood pressure. High blood pressure is often called the 'silent killer' as it does not always have any symptoms. Having this quick and simple test could save your life."