Patient transport services contract success
Patient transport services contract success
Tuesday, 06 April, 2010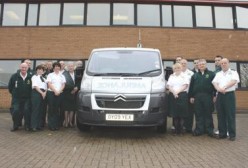 UHB PTS staff. Photo credit - West Midlands Ambulance Service


West Midlands Ambulance Service has retained its largest Patient Transport Services contract in the Birmingham
area.

The deal with University Hospitals Birmingham NHS Trust will run for 5 years and continues an already long and successful relationship.

The new contract will cover a wider area than before (now a 100 mile radius of the
Queen Elizabeth and Selly Oak Hospitals), and will provide transport for the move
from the QE and Selly Oak Hospitals to the new Queen Elizabeth Hospital, Birmingham later this year.

Derek Laird, Commercial Services Director for West Midlands Ambulance Service
said:"We are very pleased to have retained this contract. It is a vote of confidence in the hard work and strong performance of the operational team."

Damian Dixon, Divisional Manager for Patient Transport Services,West Midlands
Ambulance Service, added: "We recognised that we were competing within a very challenging tendering process. We endeavoured to submit a tender which not
only met the requirements of the Trust's Non Emergency Patient Transport Service,
but which aimed to provide added value through our commitment to introduce new technology (including web-based bookings, vehicle telematics and wireless data
transmission) and pursue options for a 'greener' fleet.

"The success of the present contract has been predominately been down to the
hard work, dedication and excellent performance of all of the Patient Transport Team that operates at the Trust."

West Midlands Ambulance Service's PTS service provides transport to patients
requiring medical treatment as outpatients or day patients, hospital admissions, transfers or discharges,
amongst other duties.