SECAmb Joins Task Force To Help Victims Of Violence
SECAmb Joins Task Force To Help Victims Of Violence
Friday, 26 March, 2010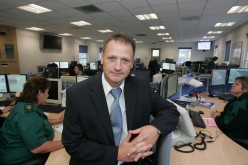 Paul Sutton
South East Coast Ambulance Service NHS Trust's (SECAmb) Chief Executive has joined a national task force set up to support women and children who are victims of violence.

The new group has been set up to help the NHS provide improved healthcare for such victims and is the interim response to an independent task force report - 'Responding to violence against women and children - the role of the NHS.'
The task force report makes recommendations about improving the early identification of victims; enhancing the quality of and access to services; raising awareness of violence against women and children; training and development; and partnership working.
SECAmb's Chief Executive, Paul Sutton said: "The consequences of violence and abuse cannot be underestimated.

"For many victims of violence their first contact with the NHS will be through the ambulance service. Therefore, we recognise that the ambulance service needs support and specific training in dealing with victims of violence and abuse as well as appropriately referring them on to other services."

As part of the launch of this new group, funding has been made available to meet the recommendations outlined in the report.

SECAmb has received financial support to develop a toolkit which will enable ambulance staff to respond effectively to cases of violence or abuse and is in recognition of the unique position that ambulance staff are in when responding to such patients.

The toolkit will give ambulance staff the practical skills and training needed to recognise signs and talk sensitively to patients about violence and abuse.