Firearms Officers Commended
Firearms Officers Commended
Tuesday, 23 March, 2010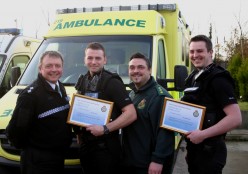 Peter, Ross, Stewart and Jon with their certificates.
Two Hertfordshire Constabulary firearms officers have been praised by paramedics for their help and assistance at a recent incident in North Hertfordshire.

Officers Jonathan Bish and Ross Little were called to a report of a suicidal man attempting to harm himself. On their arrival, they found the man in a serious condition. They both rapidly assessed the patient and he was not breathing. An automated external defibrillator (AED) was placed on the patient, and basic life support skills commenced.

Shortly after their arrival they were joined by a Letchworth ambulance crew, Caroline Roadnight and Del Clark. Duty operations manager Stewart Wilson who attended the scene, said: "Both Jon and Ross were working extremely hard to resuscitate the patient. They continued to assist the crew until the patient was placed in the ambulance. Sadly after everyone's best efforts, the man died in the Lister Hospital in Stevenage."

On Tuesday, March 23, Jon and Ross were invited along to Letchworth ambulance station to be formally recognised for their actions. They were joined by their tactical firearms inspector, Peter Knight, he said: "The medical skills of Jon and Ross, learned through their firearms training, was put to good effect in their efforts to revive the young man. It was important that they were able to work closely with our colleagues from East of England Ambulance Service. This partnership approach can only enhance our service to the public."