UKMR appoints Daniel Gore as Chief Operating Officer
UKMR appoints Daniel Gore as Chief Operating Officer
Friday, 19 March, 2010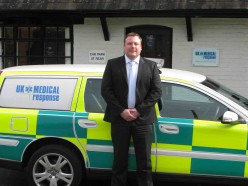 UK Medical Response accelerate their growth within the medical response sectors, by expanding their team with industry experienced members
UK Medical Response (UKMR) is delighted to announce the appointment of Daniel Gore as Chief Operating Officer.

Paul Clulow, UKMR Chief Executive commented: "Daniel has a proven track record in leadership and organisational change. His role is a vital in our future plans and enables our core foundations to be as strong as possible, even in these early periods of our company's existence."

Daniel joins UKMR from West Midlands Ambulance Service (WMAS), where he held senior managerial positions; including A&E Operational Service Delivery Director, Emergency Operations Centres and Performance/Assistant Chief Ambulance Officer and he was also Director of Operational Service Delivery in Birmingham and the Black Country prior to this.

Daniel added: "It is a great opportunity to be able to join UKMR,. I have been within the Ambulance Service for over 20 years and I'm passionate about playing a part in improving services for both staff and patients. "

Daniel joined the ambulance service in 1989 working within the control room in Essex, before holding various posts including middle and senior management until joining WMAS as a Director in 2006.