It's A First For John
It's A First For John
Monday, 01 March, 2010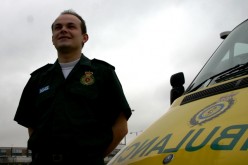 The East of England Ambulance Service is proud to receive the news that John Martin, clinical specialist (development & delivery), is the first paramedic in the country to receive a research scholarship from a regional Strategic Health Authority.

John is a postgraduate student studying for the University of Bath's Professional Doctorate in Health. John received the scholarship from NHS East of England, after undergoing a competitive selection process for the award. He will use the scholarship to fund his postgraduate research looking at the 'Variation in ambulance demand and its causes'.
The ambulance trusts medical director Pam Crispin said: "Although I have only had the pleasure of working with John for a few weeks, he is one of our rising stars and I am delighted that he is able to take up this fantastic opportunity'

In his submission for the award, John demonstrated how his research was aligned to NHS East of England's strategic vision, 'Towards the best, together'. He also successfully identified its close links to two fundamental issues facing NHS organisations across the country, Health inequalities and Providing responsive care to patients. The results of John's research will help to change the way in which acute care pathways are managed and provide a better service for all those living in the region.

The award will help John to fund the remainder of his course fees and, importantly, allow him one day a week to carry out his research within the East of England Ambulance Service. John is currently completing phase two of the Professional Doctorate and working towards the transfer to phase three, when the majority of his research activity will take place. John said: "I'm delighted to be awarded the scholarship - to be given the time to be able to carry out my project is invaluable. I believe this is the first time such a scholarship has been awarded to a paramedic in the UK, so it's a real honour and I hope that my research will have a positive impact on the way in which patients receive acute care across the region."

Chief Executive, Hayden Newton added: "We are very proud indeed of John's magnificent achievement. The trust is very fortunate to have one of the first paramedics in the country to receive such an accolade. "

Dr David Wainwright, Director of Studies in the School for Health, said: "We're delighted that John has received such an important scholarship. It will be of enormous benefit to him personally and demonstrates how important Professional Doctorate courses are to a wide range of healthcare professionals who wish to engage in research whilst continuing with their clinical commitments.

"By awarding this scholarship, the East of England SHA has recognised that a Professional Doctorate can be as important as a PhD in terms of applied research activity, effectively bridging the gap between research and practice."

Stephen Welfare, Director of Workforce, at NHS East of England, said: "This is the second year that NHS East of England has offered postgraduate students carrying out health related research the opportunity to apply for a CARA Award. Competition for the small number of awards on offer was fierce; however, the panel felt John's submission was one of the best. We were particularly impressed that his qualification places a large amount of emphasis on carrying out research.

"This is first time that we have given one of these awards to a paramedic and I hope others may be encouraged by John's success to come forward and enter next year. I would like to wish John all the best in completing his studies and I look forward to seeing the outcomes of his research."