Get To Know The HART TEAM Now, Before You Meet Us In More Trying Circumstances
Get To Know The HART TEAM Now, Before You Meet Us In More Trying Circumstances
Wednesday, 24 February, 2010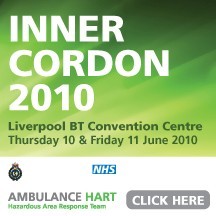 Visit the first ever HART Conference & Exhibition, INNER CORDON 2010, at Liverpool's BT Convention Centre, June 10-11, 2010

As a police officer, ambulance or fire and rescue professional, it is now vital that you are aware of the existence of Ambulance HART - Hazardous Area Response Teams.

HART teams consist of specially trained NHS ambulance staff who could be working alongside you right inside the inner cordon (or 'hot zone') of the next dangerous, hazardous or challenging major incident you attend.

INNER CORDON 2010 - book as a delegate or free exhibition visitor now

HART teams are now forming a crucial part of the national resilience and civil contingency infrastructure in the UK. But do you know enough about what they do? Have you seen the equipment they use and how it works?

Have you met any HART staff and talked to them about the rigorous approach they have towards their training, and the ongoing high level training and development these teams undertake?

If the answer to any of these questions is no, then Inner Cordon 2010 is the right event for you. The event is formed of a conference and exhibition which not only showcases the work of HART teams, but also of their other colleagues working inside the inner cordon to save lives.

What do HART teams do?

HART teams provide a specialised ambulance response to the following types of incidents:
• Chemical, Biological, Radiological or Nuclear (CBRN) incidents or those involving hazardous materials (HAZMAT) - deliberate or accidental.
• Urban Search And Rescue - collapsed structures; working at height.
• Mass casualty events such as a bomb blast or major train crash.
• Multiple casualty / vehicle road traffic accidents (RTAs).
• Incidents in tunnels / confined spaces.

Top quality speakers

Speakers led by Lord West, the Parliamentary Under-Secretary for Security and Counter-terrorism at the Home Office, will outline the backdrop to the work of HART whilst others will examine more closely the fundamentals of national resilience and emergency preparedness. The conference will have an international flavour too, with expert speakers from all corners of the globe.

It's free to visit the exhibition!

We are encouraging hundreds of visitors to our exhibition completely free of charge - as long as they pre-register with us beforehand.

The exhibition hall will be full of some of the major suppliers of innovative new products and services to those working in the emergency services and associated agencies. For them it will be a chance to meet others working inside (and outside) the inner cordon and will provide the opportunity to showcase their products to a keen and interested audience.

On the evening of 10 June 2010 there will also be an informal dinner which will be yet another opportunity to meet and network.

So make a space in your diary for one of the most important annual events in the emergency services calendar and sign up now!

For more details, or to book, visit www.ambulancehart.org and click on the 'Inner Cordon 2010' tab in the top right corner. Alternatively telephone Healthcare Events on 020 8541 1399.