Top Patient Safety Award for South Western Ambulance Service
Top Patient Safety Award for South Western Ambulance Service
Friday, 12 February, 2010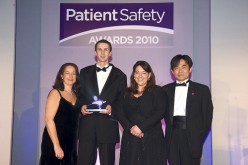 South Western Ambulance Service has scooped a prestigious national patient safety accolade, which was presented at a glittering awards ceremony in London. There were over 350 entries across 14 categories and the Trust won the Infection Prevention and Control award for its innovative Cleaner Care campaign.

The aim of the Patient Safety Awards, (supported by the Health Service Journal and Nursing Times), is to celebrate the excellence in an area which arguably presents the greatest challenge to modern healthcare, and South Western Ambulance Service won despite very strong competition from the other organisations that were shortlisted.

The Cleaner Care programme was launched to ensure the highest standards of infection control across the Trust, with the aim of ensuring that all patients receive care in an environment that our staff would be proud for their relatives to experience. Improving infection control across an ambulance service covering the largest geographical area in England, with thousands of staff and volunteers presented a number of challenges. The innovative project has proved such a success that new guidelines, systems, education and equipment have been introduced as a result.

The programme was supported by expert advice from Infection Prevention and Control Nurse Specialists Fiona Baker and Mel Cox from North Devon District Hospital.

The Trust is delighted with feedback from the judging panel, which stated: "The reason that South Western Ambulance Service won is because the initiative is clearly owned throughout every level of the Trust. This was not just a management innovation. The concept through to inception was clearly led from both a bottom up and top down approach to strong leadership."

The pioneer of the programme, Deputy Clinical Director Adrian South was pleased to accept the award and said, "All of our staff have worked extremely hard to ensure that every patient receives care in an environment that we would be proud for one of our own relatives to experience. We are delighted to receive the award, which reflects the fact that infection control is one of our top priorities.

Norma Lane, Director of Service Delivery and Quality who accompanied Adrian to the ceremony commented "It has been a real team approach with strong leadership playing an integral part to our success.

The south west region is at the forefront of many new innovations and initiatives, with patient safety being spearheaded by all leaders across the whole health community. It's a serious top priority.