Spectacular landing for Helimed 55
Spectacular landing for Helimed 55
Friday, 12 February, 2010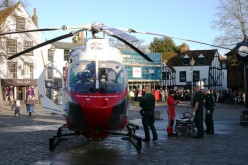 Hitchin town centre became the centre of attention on a very cold February afternoon, as several hundred members of the public watched the Hertfordshire air ambulance land in the middle of the Market Square.

Shortly before 2.30pm, emergency calls were received in the emergency operations centre in Bedford, to a man who had fallen down a flight of stairs in the town's snooker hall. Hitchin and Letchworth based paramedics were quickly at the scene. Their initial assessments found a man who was in a critical condition.

Emergency dispatcher Craig Borrett was on the phone to Helimed 55 as they were informing him they were available. Craig thought this incident sounded like a call for the aircraft to attend. After a few minutes flying time, Helimed 55 descended on to the town centre.

The picturesque medieval market square became a makeshift and unusual landing site for the aircraft. Several media agencies congregated at the scene, and it even attracted retired television news presenter, Richard Whitmore, who now works freelance for the BBC. The patient was taken from the snooker hall and extensively treated and stabilised by the land and aircrews, before he was airlifted to Addenbrookes hospital in Cambridgeshire with life threatening injuries.