World First Award
World First Award
Thursday, 02 July, 2009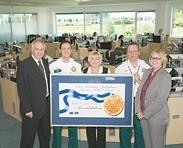 East Midlands Ambulance Service (EMAS) control staff are celebrating after winning an international award - The World's First Multi-Control Room Accreditation - recognising EMAS as an Emergency Medical Dispatch Centre of Excellence.

The International Academies of Emergency Dispatch voted unanimously in favour of EMAS for this important award, which recognizes the implementation and compliance with the Medical Priority Dispatch System (the world's most widely used emergency dispatch system) and the excellent standard of care given to the public.

Welcoming the news, Chief Executive Paul Phillips said "This is a very prestigious award and I'm delighted EMAS has achieved a world first. It is a testament to the hard work and professionalism of our control staff and they have good reason to be proud of the vital
work they do."

The announcement comes just a few weeks after we officially opened our brand new control centre, which serves the people of Nottinghamshire, Derbyshire, Leicestershire, Rutland and
Northamptonshire. The award also recognises our second ambulance control centre in Lincolnshire.