London Ambulance Service Hosts Blue Peter
London Ambulance Service Hosts Blue Peter
Thursday, 02 July, 2009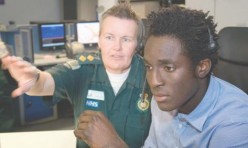 The London Ambulance Service's emergency operations centre was featured in an episode of Blue Peter.

The programme showed youngsters what happens behind the scenes when somebody dials 999 and also highlighted the valuable work done by the emergency medical dispatchers.

Blue Peter presenter Andy Akinwolere had hands on experience handling his own mock emergency call in the episode, trying to get to grips with such a vital and important role in the
Service.

Training Officer Jules Lockett was also at Andy's side to give him an insight into how staff are trained and to explain how 999 calls are categorised.