Mutual aid partnership strengthens towards 2012
Mutual aid partnership strengthens towards 2012
Monday, 10 November, 2008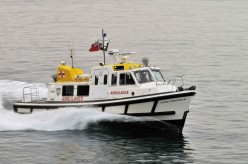 Flying Christine; Guernsey's dedicated marine ambulance boat, the Flying Christine 111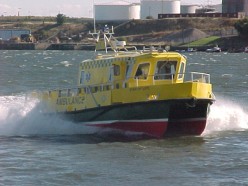 Star of life; South Western Ambulance's specialist craft, the Star of Life, which provides medical care to the Isles of Scilly


South Western Ambulance recently welcomed Jon Beausire, Chief Ambulance Officer of the Guernsey Ambulance and Rescue Service, to its Trust Headquarters in Exeter.

The purpose of the visit was to provide an insight into the developing arrangements for medical cover to the 2012 Olympic sailing events in Weymouth and Portland.

Chris Chambers, 2012 Project Manager for the Trust explained, "South Western Ambulance has been preparing for the games as part of a combined project with NHS Dorset, and in conjunction with emergency service colleagues both locally and in London. Our Trust and Guernsey Ambulance and Rescue are already partners in mutual aid, and I am delighted that Channel Islanders have offered their support in managing the needs of the Games. With their particular expertise in managing healthcare at sea, there is an excellent opportunity for us to work together in preparing for these events."
The two ambulance services are unique in the United Kingdom, in operating dedicated marine ambulance boats. While the South Western service uses a specialist craft to provide medical care to the Isles of Scilly, Guernsey operates the Flying Christine III Marine Ambulance- a 45- foot vessel specifically built for the high speed provision of medical and ambulance aid at sea.

In addition to increased services for rapid response ashore and expanded treatment centres, it is expected that medical support will be provided afloat as part of the safety and security arrangements.

Jon Beausire commented, "I am delighted to be able to see at first hand the site for the 2012 Olympic waterborne events and to have the opportunity of discussing the potential involvement of the Marine Ambulance in the provision of medical cover for this prestigious event.

Guernsey's Ambulance Service has over 50 years of experience in the provision of Marine Ambulance Services and is happy to be able to offer this expertise at an early stage in the planning for the Games."

The South Western Ambulance Service will be providing support to the London Organising Committee of the Games (LOCOG), which is responsible for the medical services to athletes and staff at all Olympic venues. The ambulance service will also be central to the NHS provision of care for visitors and spectators, throughout the region.