First consultant paramedic for Wales
First consultant paramedic for Wales
Monday, 10 November, 2008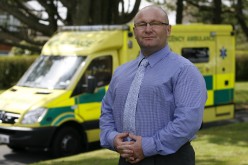 Andrew Jenkins


The Welsh Ambulance Service has appointed its first Consultant Paramedic -the first post of its kind in Wales.

The job has been taken by Andrew Jenkins, 38, who said, "I'm extremely proud to have been successful in such a strong field; this is a new and exciting role for the NHS in Wales. I'll be providing strategic clinical leadership and direction, Trust-wide."

The new post has been approved and accredited by the Welsh Assembly Government and will focus on a strategic vision for policy development and professional leadership throughout the Trust. There are only two similar posts in the UK, and applications for the role came in from as far as the US.

Mr Jenkins said, "This role will help me, and the Trust, to take clinical care to the next level. It's an exciting and also challenging role, but will ultimately define patient care for us."

He added, "Part of the role incorporates clinical governance which is all about having robust policies in place to support staff and patients alike, and providing high quality patient care. We want to make sure all paramedics carry out evidence-based pre hospital care, and to develop a culture of consultation, of forming clinical opinions to evidence based practice."