New chief for Guernsey
New chief for Guernsey
Monday, 28 July, 2008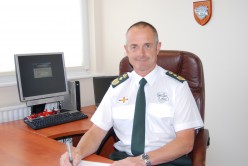 Guernsey's Ambulance & Rescue Service has a new Chief Ambulance Officer.

Jon Beausire, who was the Service's Deputy Chief Ambulance Officer, replaces Neil Tucker who has been appointed Director of Finance & Administration.
Guernsey's Ambulance Service is unique in the British Isles as it combines a statutory ambulance service with land and sea based rescue teams. The Service has a purposely built Marine Ambulance which serves the smaller Channel Islands, ships and other vessels at sea and is equipped and responds in the same way as a road ambulance would on land.

Mr Beausire joined the Guernsey Ambulance Service in 1986 after 14 years in the motor trade. During his time with the Service he has been actively involved in all aspects of rescue response as part of the Service's cliff rescue team, marine ambulance crew and inshore rescue boat crews. In 1990 he qualified as an NHSTD Ambulance Aid Instructor and went on in 1992 to become the Service's first paramedic, completing his pre-clinical training at the Southern Ambulance College in Wiltshire and his clinical training locally in Guernsey's only General Hospital. He was subsequently responsible for setting up and co-ordinating the Service's paramedic training programme. Operationally he is one of the few paramedics in the UK to have provided emergency treatment to patients on land, at sea and in the air.

Jon Beausire became Head of Operations for Guernsey's Ambulance Service in 1998 and in 2000 was appointed Deputy Chief Ambulance Officer. In that role he has been responsible for supervising all aspects of operations and has been particularly involved in emergency planning and developing the Service's response to major incidents. He has represented both Guernsey Ambulance Service and the Ambulance Services of the Crown Dependencies at a national level on the Ambulance Service Association's Civil Emergencies Committee and latterly the Emergency Preparedness Board.

The Chairman of Guernsey Ambulance & Rescue Service's Board of Directors, Tom Castledine said, "I am very pleased that we have been able to appoint a new Chief Ambulance Officer with both the operational and management experience of Jon Beausire. I am confident that he will be able to develop the Service further and continue to maintain the high standards that the local community expect of us."